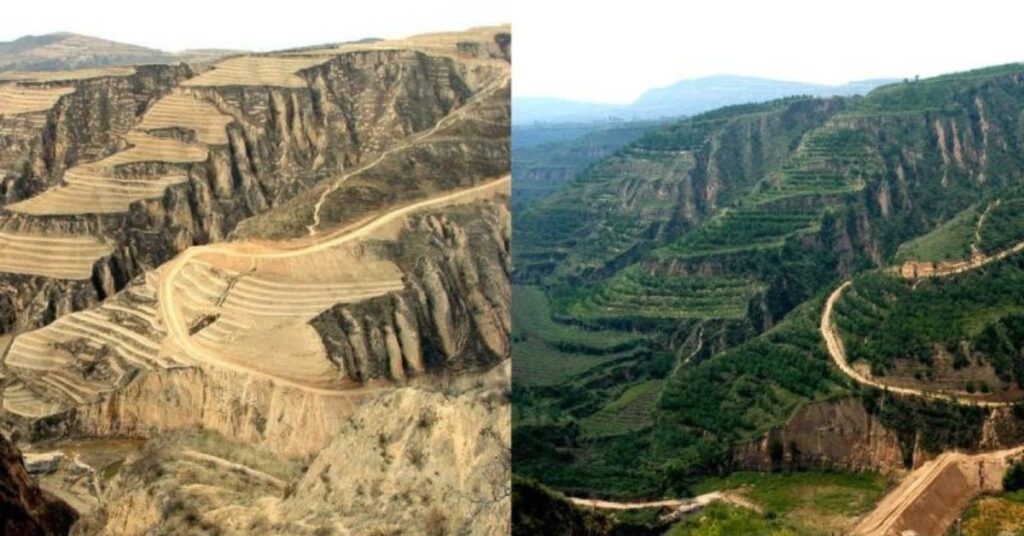 Land is key
Land is the key for life and sustainable livelihoods today. Restoring land is important because the plants which grow in soil are the basis for food, they capture and store excess carbon produced by humans and also ontribute to our supply of clean water. The recent global pandemic of Covid-19 has highlighted to many of us how far-removed we are from our food sources, with at least 75% of global supply chains having been disrupted. Land degradation in drylands due to natural processes or induced by human activities, also known as desertification, is one of the biggest environmental challenges of our times.
Desertification and Drought Day: Food. Feed. Fiber.
Formerly known as the World Day to Combat Desertification and Drought up until this year – every June 17th is observed as a day to promote public awareness of international efforts to combat desertification, and that land degradation neutrality is achievable through problem-solving, community involvement, and cooperation at all levels – local and global. This year, the 2020 Desertification and Drought Day theme is "Food. Feed. Fiber."
As populations grow, become wealthier and increasingly urban, there is far greater demand for land to provide food, animal feed and clothing fibre. Meanwhile, the health and productivity of existing arable land continues to decline, further worsened by climate change. To have enough productive land to meet the demands of ten billion people by 2050 a lot needs to change in regards to our principles and practices of agriculture and land management. Dry lands, in particular, hold a significant proportion of the world's soil carbon stock, and therefore land degradation also contributes to carbon emissions, food supply shocks, and resource conflicts.
Sustainable Land Management is key to carbon drawdown
The good news is that sustainable land management is a key climate change mitigation strategy. Increased soil organic carbon (SOC) has been identified as one of the most cost-effective options for climate change adaptation and mitigation, as well as combating desertification, land degradation and food insecurity by the IPCC's special report on climate change and land.
Ecosystem management and ecosystem-based adaptation, which integrates biodiversity and ecosystem services, can be cost-effective and generate social, economic and cultural co-benefits. This approach can:
help conserve biodiversity
contribute to climate change mitigation and adaptation
provide livelihoods for those on-the-ground working with the land in sustainable supply chains for food, feed, and fiber.
Earthbanc rising to the challenge
Recently, a price tag of $300 billion was advocated by the United Nations Convention to Combat Desertification (UNCCD) as a way to stabilize carbon emissions for 15-20 years, giving the world time to adopt critical carbon-neutral technologies. To put this into context, this is equal to the world's military budget spending every 60 days, to save the majority of the world's critical ecosystems and food producing lands.
Earthbanc team members over the last two decade have authored books and held workshops on solutions to rapidly draw down carbon back into the soil with regenerative agriculture and mangrove restoration, alongside other professionals in the land restoration space from UNCCD and IUCN as part of the Caux Dialogue on Environment and Security, held by Caux's Initiatives for Lands, Lives, and Peace (ILLP). Many of Earthbanc's team are also members of the ILLP Steering Group, focused on re-allocating some of the military budget overspend onto planetary regeneration and conflict prevention, through better lands and water management.
Earthbanc's team have also actively participated in the UNCCD COP 13 and COP 14 for the launch of the Land Degradation Neutrality Fund. Earthbanc has plans to restore 1 billion trees in eastern Africa. This is just the beginning. Explorations are also underway to pay smallholders and dis-empowered communities to engage in large-scale ecosystems and land restoration, as a pathway out of the complex poverty and land degradation cycle.
The relationship between land restoration, climate change abatement, and human security are now increasingly recognized in the mainstream discussion around climate. Through our participation in Caux Dialogue on Environment and Security, we are very conscious of the realities of land degradation and the real threat of human conflict and forced migration that follows. If we want to reverse the cycle of environmental and social destruction globally, we need to invest in land restoration and communities at the very local level. As a benefit we will all experience more robust supply chains that provide the food, feed, and fibre we depend on.
The future: from oil to soil
Earthbanc's mission is to create land regeneration at scale by financing the planting of the equivalent of 1 trillion trees in order to stabilise our climate for generations to come. As a company with firsthand knowledge and experience in land restoration we understand the social and financial incentives that support regeneration at the local level (where it most often happens). We recognise that to transition from our heavy dependence on oil to a regenerative economy supported by healthy soils, we need to connect people globally in innovative ways. We can't do this alone.
Earthbanc is uniquely positioned to be the world's first fintech platform to connect those restoring the land with fair compensation for carbon sequestration. We are developing innovative financial solutions to create a regenerative economy that restores livelihoods through financial inclusion whilst restoring the planet's critical ecosystems.
Investors – small and large – are becoming increasingly earth-conscious. Earthbanc connects investors and underserved borrowers in emerging markets that need access to capital, and have the capacity to green supply chains. In short, Earthbanc is a one-stop-shop to help global capital flow into land regeneration efforts in a way that deeply respects both people and planet.
By taking part in Earthbanc, anyone can actively play a role in regenerating the planet, supporting communities, enabling local producers, and empowering ethical financial organizations to expand their impact. Now that's a cause for hope.
Join us in our mission to combat desertification with regeneration!
Sign up for updates and product launches.
Jennifer Helgeson, Ph.D. is an advisor and climate economist at Earthbanc, a Green Digital Banking & Investment Platform™ – save money and the planet by banking for the earth. 
*For more than 15 years, cameraman and ecologist John D. Liu has been working on his worldwide mission to green deserts and to restore biodiversity. Read about his latest work developing ecosystem restoration camps.
Click to share this page on social channels