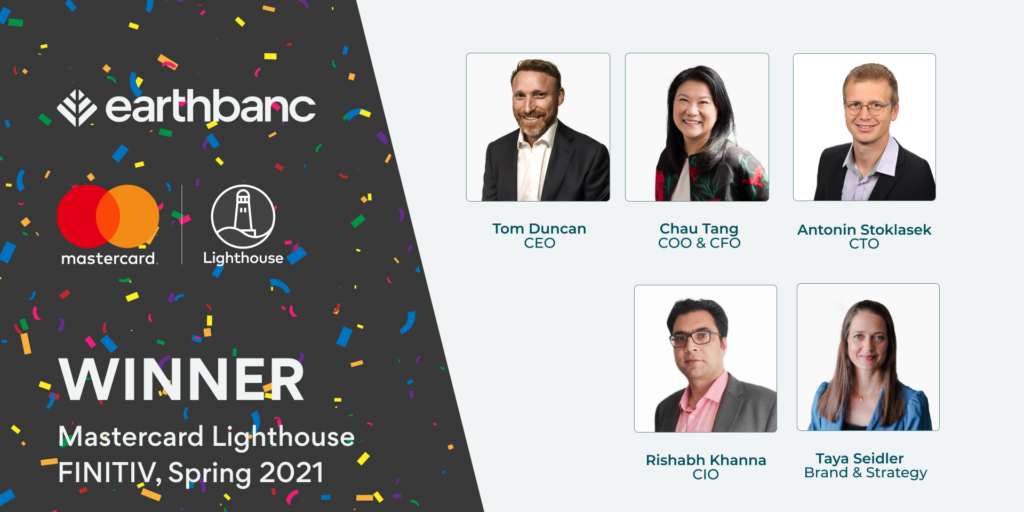 Stockholm-based Earthbanc was selected the winner of this spring's Mastercard Lighthouse FINITIV. 
"We are very excited to see the amount of engagement Earthbanc received through the FINITIV program and look forward to continue supporting their growth", says Mats Taraldsson, Head of Innovation, Fintech and Impact-tech Engagement, Mastercard Nordics and Baltics
FINITIV is an open innovation program that helps start-ups partner with Mastercard, Swedbank, Danske Bank, SEB and DNB. Selected for its clear communication, strong value proposition, and potential to help organizations measure scope 3 emissions, Earthbanc rose to the top of a 15 strong start-up list that the program's corporate participants identified as possible partners at the start of the semester. 
Earthbanc's carbon and investment marketplace reports on and audits carbon offsets to measure the underlying carbon asset, as well as provide investment opportunities in carbon removal. The climate fintech's key customers are businesses, non-profits and investors who join the marketplace to either buy, sell or invest in carbon, respectively. Organizations committed to net zero emissions use Earthbanc's carbon and investment marketplace to acquire high quality carbon offsets and investments that are continuously rated and audited by Earthbanc's satellite AI technology, which is venture backed by the European Space Agency. Carbon buyers include corporations committed to net zero, online platforms, fintechs, banks and asset managers.
Investors can access carbon removal investment and finance opportunities that are rated and audited continuously using satellite AI. The platform combines sustainable finance decision metrics with carbon measurement tools including satellite, remote sensing and IoT data to deliver the world's most accurate and precise carbon offsets. Earthbanc records and tokenises all carbon offsets and investments on a blockchain ledger, to ensure auditability of project claims and eliminate double spending of carbon offsets.
As part of the European Green Deal, the EU now requires businesses to use a common taxonomy, or classification system, for measuring and reporting their environmentally sustainable economic activities, including financial institutions or asset managers that claim to be carbon neutral, by purchasing carbon offsets or planting trees to offset their environmental impact. While many organizations still struggle to gather and classify ESG data, the majority of companies recognize the need to do so going forward, including for carbon offsets and tree planting projects which have otherwise been used by some companies to 'greenwash'. Solutions such as those from Earthbanc can help companies to accurately and precisely measure the carbon in offset and tree planting projects, as well as provide opportunities to finance carbon removal activities in their own supply chains, and globally.
Mats Taraldsson of Mastercard also said:
"Sustainable finance taxonomy is going to become a more visible part of the way companies conduct business. Now we only need that solutions such as those provided by the Lighthouse companies act as enablers for this development to take place, and for banks and other corporates to partner and play their role in this journey."
Earthbanc delivers sustainable finance, carbon reporting and carbon offsets, and has worked with commercial banks such as well as multilateral banks around the world, and has started working with Nordic and Baltic banks.
Medjit Yalmaz, Head of Fintech Investments at Swedbank, said:
"Swedbank is very well aligned with sustainability and financial well-being which is part of the bank's DNA, strategy and vision. We are always looking for new ways to offer new and better services for our customers. Spring programs has introduced us to start-up companies with whom together we see opportunities in creating a better tomorrow,"
Earthbanc is currently delivering a pilot with Swedbank in Lithuania, automating carbon reporting for businesses which can uncover sustainable lending use cases and opportunities for accurate carbon offsetting using Earthbanc's patent pending AI which measures the accuracy of carbon sequestration in carbon offsets.
Antanas Sagatauskas, Head of Corporate Banking Division at Swedbank Lithuania, said:
"Swedbank Lithuania has selected Earthbanc's technology to pilot the automation of our business customer's carbon reporting. Participating businesses will be able to see their carbon footprint and gain insights about potential cost savings and carbon reductions that could be generated through implementing sustainability activities. Sustainable finance is becoming the new standard across Europe and Earthbanc's innovative fintech makes this transition easy."
Earthbanc won the Best Product award in the ROCKIT Impact Accelerator for its carbon reporting and offsetting product it is piloting with Swedbank in Lithuania.  This Best Product award further validates the strong value proposition of Earthbanc's carbon and investment market, and the universal API / SDK that delivers automated carbon offsetting and reporting into other platforms to scale up.
Tom Duncan, CEO of Earthbanc, said:  
"Winning the Mastercard Lighthouse FINITIV program is a great vote of confidence from Mastercard in our technology, team and growth roadmap with banks and businesses. Previous winners of Mastercard Lighthouse have gone on to major successes with support from Mastercard and their global network of banks and corporate partners. "
"We are proud to join this world class fintech ecosystem and grow our collective impact by helping solve the biggest problem of our time – climate change. Our sustainable finance and carbon marketplace provides ESG and carbon reporting metrics on the underlying carbon assets of offsets and credits, which is a world first. We deliver unique sustainability metrics on the investments on the Earthbanc platform, and deliver loans into carbon removal projects that we continuously audit with AI-powered satellite and remote sensing technology – to ensure carbon reductions are achieved. We are honored to win the overall Mastercard Lighthouse FINITIV award – getting to work with top banks to achieve net zero with our sustainable finance and carbon offset solutions with the Mastercard network."
The Lighthouse FINITIV Program winner receives an invitation to pitch for Mastercard's Start Path program. The future looks bright for Earthbanc with support from Mastercard, it's network and new opportunities.
Press contact:
Read more about Earthbanc at https://earthbanc.io
Click the buttons below to share this blog