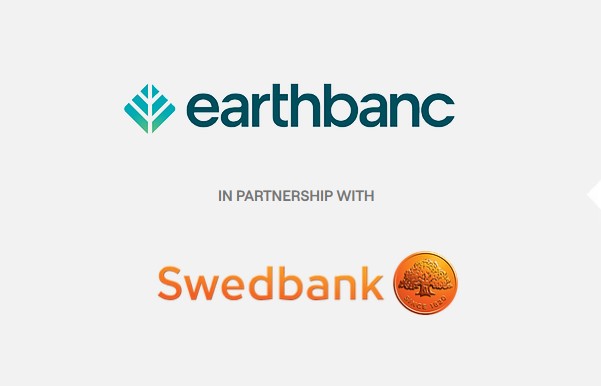 Earthbanc has partnered with Swedbank Lithuania to pilot the delivery of carbon and climate reporting for corporate and SME banking customers, which can open the door to sustainable finance opportunities.
"Swedbank Lithuania has selected Earthbanc's technology to pilot the automation of our business customer's carbon reporting. Participating businesses will be able to see their carbon footprint and gain insights about potential cost savings and carbon reductions that could be generated through implementing sustainability activities. Sustainable finance is becoming the new standard across Europe and Earthbanc's innovative fintech makes this transition easy". – Tom Duncan, CEO of Earthbanc, said:
"With the EU Sustainable Finance Disclosure Regulation and the European Banking Authority's Loan Origination Guidelines, requiring financial institutions to report on ESG metrics, banks and businesses are facing challenges with regard o accessing local ESG data to ensure reporting is accurate. Banks need to be more transparent and knowledgeable about climate and ESG risks, and Earthbanc's technology enables mass adoption of data-driven Sustainable Finance with our APIs and EEA-wide harmonised reporting dashboards."
"Swedbank has been pioneering sustainable investments from the 1960's and is well positioned to act on climate and ESG risks. This new partnership is a natural evolution for both businesses, accelerating new innovations in reporting and creating new opportunities for businesses to measure their carbon footprint, understand the potential operational cost savings available to them for switching to energy efficient technologies, and unlocking the potential of sustainable finance. This is an exponential market opportunity moment, and the banks and asset managers that seize this moment, will be part of that growth story."
Swedbank has already committed to do more than others in this area. The bank conducts sustainability risk analysis for corporate credits above a certain amount and already excludes companies from their portfolio where coal mining and production represents more than 5% of their turnover. In 2020 Swedbank adopted a new climate-focused strategy to not grant new financing for prospecting of new oil and gas fields or unconventional extraction of fossil fuels.
For more info read full article here: https://www.finextra.com/pressarticle/87387
Click to share this page on social channels